Finally bit the bullet and added the Alesis v49 to my motley collection of instruments. 49 keys is enough for a novice like me. I've been near midi keyboards a lot when I actively played guitars for years but never really felt the inclination to own one. The piano & guitar combination is still my favourite duo when it comes to making music that feels good- think massive drum fills, shredding guitars with minor arpeggios, edgy bass, FM bells and a moody atmosphere and you got my code.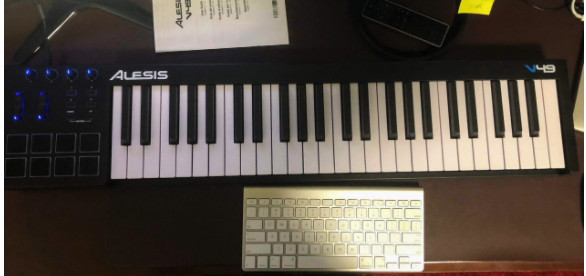 The main goal here is to get better at programming accompaniments to instrumental guitar and to get better at arranging compositions.The 8 LED backlit pads respond OK though I haven't really used them a lot. The sensitivity index on them seems different so it seems like a bit of bother to use them both especially for fast passages. The 4 assignable knobs are super convenient to program. I really like the Pitch and Mod wheels which let you wail so I can channel my inner Sherinian.
The 49 keys are full-sized and semi-weighted. Compared to a legit piano, they size up pretty well and feel great. The form factor is slightly more harder to press down if you do a direct comparison with a full-fledged digital keyboard but its not too far off. Alesis also allows you to alter the channel, transposition, octave and velocity curve for the keys – I did that immediately after unboxing as most of my earlier research suggested it best to fix that early before I got too comfortable with the "stiffness".
Overall build quality seems solid. The 37-inch size of this workspace is where its appeal lies for me. I can easily place it on my workdesk without needing separate storage space for it.The package also comes with the Ableton Live Lite Alesis Edition & MIDI editor software. The activation and account creation steps were a breeze – firmware upgrade and I was good to go in 15 minutes.